After spending the previous years in the 'ghetto' at the lower end of the Japanese sex film industry, Wakamatsu's sudden shift into mainstream films must have come as something of a surprise to his critics and marked the revival of his previously abandoned production company. Although considerably less prolific than he had been in the previous phases of his career and often containing less obviously experimental elements than the films he had directed in his 'glory days', there is plenty of material in these works that show his maturation as an artist and that can be used to illustrate his status as an Auteur director as well as his continuing mastery of the cinematic form. For the final sections of this paper I will be looking at one film from each of the decades covered in this period, starting with the first film to be made through his resurrected Wakamatsu Productions.

Before he reopened his own production company, Wakamatsu directed his first mainstream film for a company called Shishi Productions that had a distribution deal with one of Japan's major film studios (Toei). The film was called PREY (Japan, 1979) and starred punk singer-cum-actor Yuya Uchida as a man on a mission to bring reggae music to Japan through his old friends who work in the record industry, but are only interested in promoting the next factory-line 'idol' singers and most of whom are involved in drugs and prostitution. While it is quite clear that this scenario is a metaphor for Japanese societies resistance to political change and the corrupting effects of wealth, the film is often flawed in its execution as a 'mainstream' film.
With A POOL WITHOUT WATER however, he would return to the realms of pink cinema (albeit with a mainstream distribution deal that would see the film play in 'regular' cinemas) and produce his most realised film to date.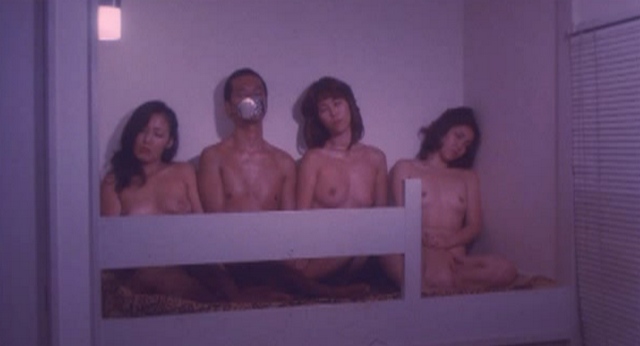 Yuya Uchida and 'sleeping friends' in A POOL WITHOUT WATER
Again starring Yuya Uchida (like many Auteur directors, Wakamatsu was prone to working repeatedly with the same actors throughout the various phases of his career), the film follows the exploits of a middle-aged ticket puncher working at a subway station who, disillusioned with his nagging wife and demanding children, takes to following women home and filling their apartments with formaldehyde fumes before breaking in and photographing their nude, unconscious bodies. Like many of his earlier films, Wakamatsu used this basic framework of an erotic film to create a broader political commentary, this time concerning the social dislocation of those left behind in the bubble economy that was forming in Japan at the time. In the film, Uchida's character is so detached from the world around him that his only 'meaningful' relationships are with the prone bodies of his victims, with him even going so far as to cook them breakfast before he leaves. With far higher production values than any of his previous films and subtler use of both politicised narrative devices and the films occasional uses of unusual and non-diagetic sound (similar echoing/reverberating sound effects to his mid-sixties works) POOL WITHOUT WATER stands as probably Wakamatsu's finest work within the realms of erotic cinema.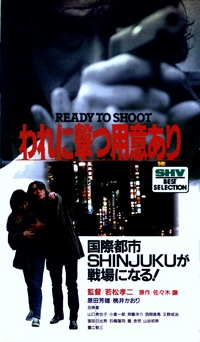 VHS Cover - READY TO SHOOT
The next film under consideration would be his most autobiographical and, at that point in time, his most personal. Telling the tale of a Shinjuku district bar owner who becomes involved with a young Korean immigrant woman with whom the local yakuza are trying to coerce into prostitution. Turning to his ex-radical friends for help, he finds that all but one of them has long since given up on their political ideals in favour of the capitalist lifestyle. It is easy to see, even from this basic description, the reflection of Wakamatsu's own feelings towards the leftist movements with which he was once involved. In fact, there are so many similarities to Wakamatsu in the central character that it is impossible to deny his place in the film as a direct extension of the director's psyche. Aside from looking similar to Wakamatsu, there is the fact that, like the films protagonist, Wakamatsu owned a bar in the Shinjuku district at the time and then there is the plot correlation to the director's days as a left-wing radical. Although there are a few of Wakamatsu's trademark visual and aural experimentations in READY TO SHOOT, there are so many parallels with his personal life that, when studied against Bazin's definition of an Auteur film, a 'reflecting of the director's personal vision', it is a futile task to try to see READY TO SHOOT as anything other that exactly that. This increasingly restrained and personal form of film-making would continue to develop over the next two decades culminating in his critically acclaimed return to Landscape theory with CYCLING CHRONICLES: LANDSCAPES THE BOY SAW in 2004 and reaching it's (for Wakamatsu) logical conclusion with his most recent work, the last to be analysed here.
Made as a reaction to Masato Harada's 2002 film on the Asana Lodge incident (covered in section 3:5) CHOICES OF HERCULES (Japan,2002), which showed the events from the police officers point of view and portrayed the young radicals involved as one dimensional terrorists, UNITED RED ARMY is the most ambitious film of Wakamatsu's career. Running at over three hours and taking the director several years to research, including interviewing the remaining survivors of the URA who, up until then, had kept silent over the details of the ideological purges and murders that preceded the famous siege. The film chooses not to pass any judgement, but instead presents the 'facts' of the case in a near documentary style, leaving the viewer to make up their own mind as to where the responsibility lies. Split into three acts of approximately an hour each, UNITED RED ARMY makes for harrowing viewing as the film unfolds. Starting with an elongated history of the formation and development of the various factions of the Japanese leftist movement following the signing of the Anpo Treaty and slowly shifting from contemporary newsreel footage into the 'fictional' narrative in an extended version of the opening scenes in RUNNING IN MADNESS, DYING IN LOVE, the film shows how the group of friends allowed petty jealousies and ideological differences to destroy not only their revolutionary ambitions, but also their humanity.
Seen in context with his other films it is clear that UNITED RED ARMY works as a summation of the political and personal themes that Wakamatsu had been putting into his films throughout the bulk of his career and to some level the change in the films protagonists from wide-eyed idealists into jaded 'realists', reflects the shifts in attitude seen in the different eras of the directors own output.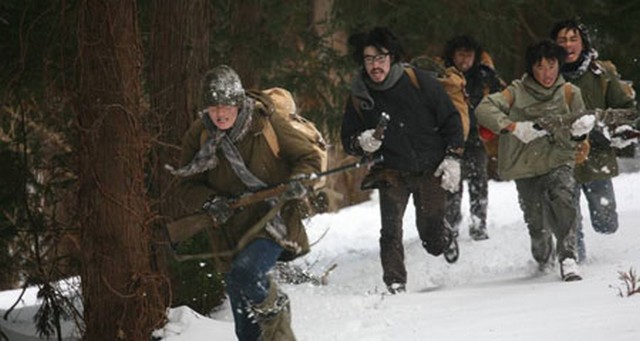 Publicity still for UNITED RED ARMY
Proof of this 'career summation' reading of the film can be found in two statements from each end of UNITED RED ARMY's prolonged running time. The first is the title card that opens the film and reads 'Once, armed youth cried out for revolution', which can be seen as a reflection of Wakamatsu's revolutionary ideology seen in his films of the late sixties and early seventies. The second is a quote from one of the films protagonists in the closing scene of the film which he cries "We had no courage", which can be seen as a condensed version of the themes of ex-radicals selling out their ideals which is covered in his later works, most obvious in READY TO SHOOT and of course UNITED RED ARMY. Throughout the course of this essay I have shown in detail how Wakamatsu has developed a unique cinematic voice through his use of experimental, stylistic and thematic techniques.
Starting with his politicization of the sexual act and developing over the years to an artistic maturity that gave voice to a number of creative, personal and political ideas that were very much his own, even when collaborating with other artists. While it is true that much of his work is filled with less that subtle uses of metaphor and symbolism, it is to some degree, this heavy-handed approach to the subject matter that can be seen as one of the keys to his status as an Auteur. To return to Astruc's pen analogy, it could be said that instead of a pen being Wakamatsu's tool of authorship, he used an AK-47, which would better describe both his revolutionary political viewpoint and his sledgehammer approach to delivering his messages.
It has also been shown that there is a consistency of style, theme and personality that runs through the majority of the films covered in this text and that Wakamatsu's work easily meets both Bazin's ascertation that an Auteur's films must 'reflect the directors personal vision' and Astruc's definition of not being 'hindered by traditional storytelling techniques', the proof being readily found in Wakamatsu's experimentalism and his constant use of turning his films into vehicles with which he could convey his personal and political viewpoints. It is also clear that as his own world view changed with his increasing maturity, so did that of the films he was directing, from the ideological rantings of his earlier works to the, mostly, subtler approaches of his later films.